One of the most underutilized features of Facebook for businesses is the Secret Group.
A Secret Group is easy to create and manage, and it is perfect for small-group interaction.
Facebook originally created Secret Groups for people to have small, intimate interactions with family and friends, but Secret Groups are also perfect for small businesses, coaches and professional development, like mastermind groups.
Why Secret Groups?
Most people think of Facebook Business pages when they think about Facebook, but businesses sometimes need private spaces for working, coordinating schedules and developing marketing and advertising ideas with a small group of people.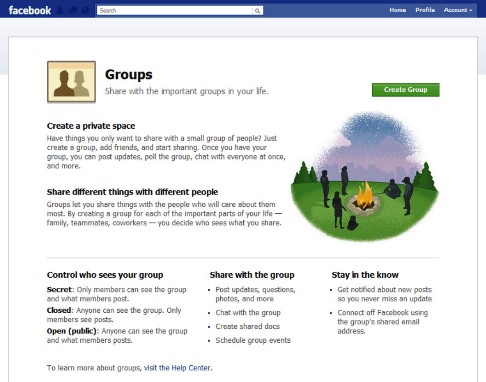 There are three types of Groups on Facebook.
It's true that G+ (Google+) has created a system of Circles that allow for private conversations, but there are some nice features that Facebook has embedded within Secret Groups that are not as easily utilized in G+ as it currently stands. I'll explain those Facebook features in a moment.
There are three types of Facebook Groups:
Public (Open): everyone can see the Group, find it in a search and make posts
Closed: everyone can see the Group, but only members can see (and make) posts
Secret: only members can see the Group, see and make posts
But how secret is a Facebook Secret Group?
When you create a Secret Group, no one, except the members of the Group, will be able to find it in a search and no one will be able to find any trace of it on your personal or business Facebook profiles. And Secret Groups are not indexed by Google.
Even if you send someone the URL of the Secret Group, they will not be able to see the Group page. It's that secret. I have even posted a Secret Group's URL on a post in another Secret Group and no one could see the actual link at all!
You will get Facebook notifications (and/or email notifications—more on that in a moment) for each post from any member. And those posts will show up in your news feed, which can be a bit confusing until you notice the little lock icon next to any Secret Group post. So no one can read those, unless they are looking over your shoulder!
And if you choose to receive email notifications of posts to the Group, you will be able to reply to those emails and have your reply go directly to the Group comment for that post.

You will see posts to your Secret Group in your Top News Feed.
Features of Facebook Secret Groups
There are several features that I have enjoyed with my Secret Groups that any small business could use. They are:
Group Chat: everyone in the Group can use the Chat feature at the same time. So you can have a conversation around complicated subjects to work things out without having to pick up the phone or back-and-forth emails. As far as I know, you can't use this function on a mobile device (mobile browser or app) at the moment, though.
Shared Document creation: the whole group can have input on one document and be able to edit what other members have put on it. This feature is similar to using Google Docs, and can be used to refine promotional text, press releases, responses to controversy, etc.

Create a document that all the members can edit.
Private photo sharing: members can post photos that no one else on Facebook can see. For example, Secret Group members on an advertising team can discuss which images to use on an upcoming campaign. They could create albums with the name of their upcoming advertising campaigns and put several images in them to discuss in the comments or in the Group chat. You can tag the photos, but only with the names of the members of the Group.
Shared email address: Facebook lets you create a custom email address you can use to email posts to the Secret Group page. You can email text and images. I'll show you how to create that special email address in a moment.
How can a small business use a Secret Group?
Looking at these features, how can small businesses and coaches use a Secret Group? Here are a few ways:
If you're a manager with staff who live on Facebook, you can create a Secret Group to keep in touch about hours, shift substitutions, emergencies and all sorts of things that a manager would normally use email or text messages for. Everyone can check the Secret Group posts for morning updates and these messages won't show up on someone's personal wall.
If you have a remote virtual team working on a marketing project, you can use the Group Chat feature to work through ideas that come up randomly through the day that only need a couple of minutes of attention in the same way you would use Google Chat or any IM system.
If you have a crisis management team using a Secret Group, you can take photos on your smartphone and send them directly to the Group using your private Group email address. You completely bypass the upload and tag process you normally use for Facebook photos. You can create group documents for how to handle a particular crisis for ready reference and be able to announce a group chat time that immediately shows up in the member's Top News Feed.
If you are a personal development coach, using the Secret Group system is great, even if it is a bit convoluted to get a fully Secret Group, as you will see. First you need to create a Closed Group. That way you can give out the Group's URL and then they can click the Ask to Join the Group button (top right of the Group page). You don't need to be personal Facebook friends with potential members for this to work. Then once everyone is a member of the Closed Group, you can change the Group setting to Secret (how to do that coming up).
Assuming you already have a personal Facebook account, follow these steps to create a Secret Group:
Go to http://facebook.com/groups
Click the green Create Group button.
Give the Group a name and choose the icon with the dropdown arrow.
Add any members who are your Facebook Friends by typing their names. You'll see their account pop-ups; select to add them to the member box.
If you will be including members who are not your personal friends, make sure you create a Closed Group first, then change it to Secret once all the members have joined.
Select the Privacy Setting and click the Create button.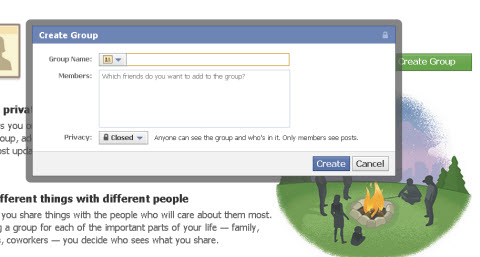 There are only four easy things to do to create a Group; choose an icon, give the Group a name, select members and choose the privacy setting.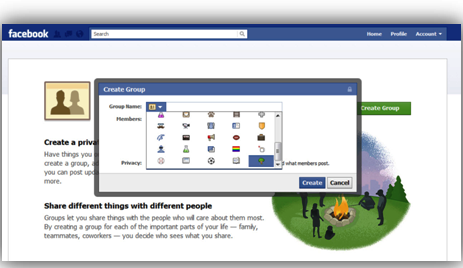 You can choose from a standard list of icons for the Group.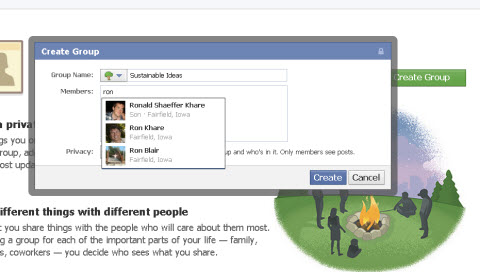 Give the Group a name and start to add members who are already your friends.
If you selected to create a Closed Group first, send the URL for the Group to the people you want to invite. The URL will take them to the Group page, where they'll see an Ask to Join the Group button (top right corner of the page). Once they click that button, you (as an admin of the Group) will see their request on the right column of the Group page.
To approve people who have asked to join the Group, look on the right side of the Group page for the section called Requests. You can click the Add or Ignore link for each person who has asked to join the Group. Once everyone is in, change the Group setting to Secret. You can see how to do that next.
Adjusting Personal and Group Settings
To adjust your personal notification settings for this new Group, click the Edit Settings button at the top of the page, and select if you want to be notified when a member posts, when a member posts or makes comments when a personal friend in the Group posts or only posts that you have made comments on.
You can also check or uncheck to be sent an email for the notification choice you made, and decide if you want to be sent chat messages. After you have figured all that out, click the Save Changes button. I suggest that you unselect the email notifications and just use the built-in notification system Facebook provides, but that's my personal preference.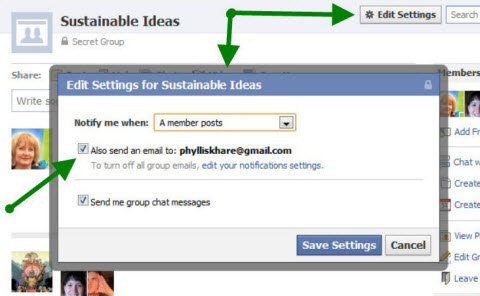 Edit your personal settings for notifications.
To adjust the Group's settings, look for the link in the right column called Edit Group. When you click this link you have options to:
upload an image that will be the Group's profile image
change the privacy setting (from Closed to Secret, for example)
select to have only admins of the Group be able to approve members (highly suggested for all Group organizers to check this box)
create a unique email address for the Group—click this button to create an email address that you or anyone in the Group (if you share it with them) can use to email text and images to the Group wall. You just need to add text before the @groups.facebook.com link. For example, GoldMasterMind@groups.facebook.com. If your proposed name is already taken, you will be able to change it until it is unique.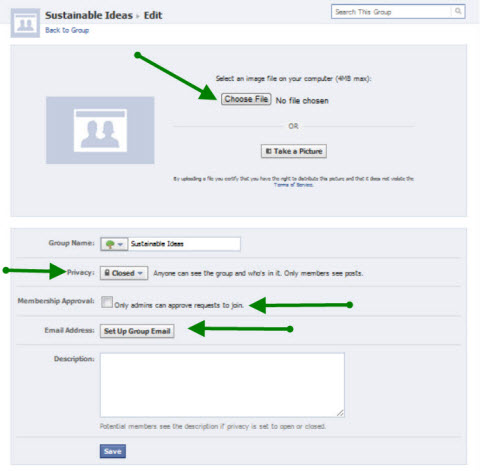 These are the settings you can adjust for the Group.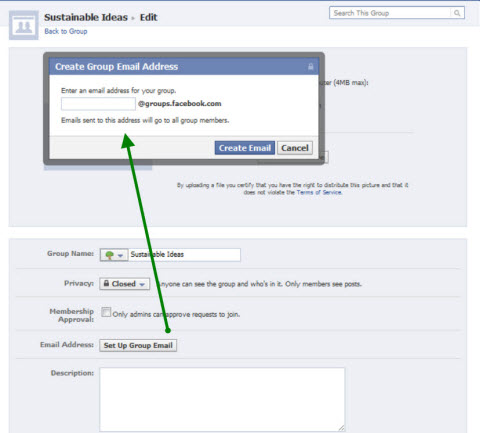 Edit the Group settings and create a unique email address for the Group.
Now you can create posts, upload photos, add links, create group documents and have conversations, all within the Facebook "cone of silence" or under the "cloak of invisibility"! I can hear you say, "But nothing is completely secret on the Internet." I would agree with you, but as far as I can tell, the proverbial cloak works really well with Facebook Secret Groups.
See Video:
I am a member of a few Secret Groups, one of which contains all the authors (of which I am one) of a certain recently published book. Our Secret Group was a lifesaver during the writing and editing phase of our book.
Because of a tremendous amount of overlapping subjects and text in the book, we were able to sort things out within the Chat, Group Chat, Posting and Image Uploading features of the Group. And we bonded very deeply over posts, comments, rants and raves. Knowing that no one else could see what we wrote helped to relieve the frustration and stress of a very demanding project.
What do you think?
What is your experience with Secret Groups? Have you used this feature yet for your business? Do you see any possibilities with a Secret Group for personal development? Leave your comments in the box below.
Disclosure
: This post can contain affiliate links, which means that if you click a link and buy anything we suggested, we may earn a fee. Read more about Affiliate disclosure
here
.
We believe and sincerely hope that this post was helpful to you, please show your support by sharing it with your families, acquaintances, friends, and relatives who might be in a dire need of this help-guide via Facebook, Twitter, as well as on Instagram platform using the social buttons on this page.
Copyright And Warning:
Published contents (including posts and media) on this blog may not be reproduced, redistributed, republished either in whole or in part without due permission or acknowledgment from the Quick News Ng administrator.

The blog posts and other content on this blog is written and published with good intentions. If you own any of the content and believe that your copyright was violated or infringed, please ensure you contact us via [coolieecoldex(at)gmail.com] to file a complaint, and actions will be taken with an immediate effect.